October 1, 2014: Olez® O2 Oxygen Therapy Spotlight in Modern Salon as an innovative treatment
January 1, 2014: Olez® Extend Daily Hair Therapy featured in this month's Modern Salon
December 1, 2013: Olez® Extend Daily Hair Therapy featured in this month's Modern Salon
November 1, 2013: Olez® Advanced Keratin System Featured in this month's Behind the Chair
July 9, 2013: Boca Cosmetics Group's Olez® Brings the Most Advanced Keratin System to Las Vegas
Boca Raton, FL (PRWEB) July 09, 2013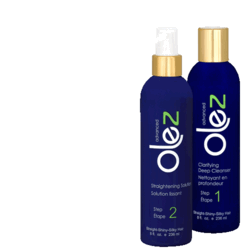 Olez Advanced® is set to launch at Cosmoprof North America, taking place July 14-16, 2013 at the Mandalay Bay Convention Center.
Boca Cosmetics Group, manufacturers of the most innovative hair care systems in the industry, announces the launch of Olez Advanced® Smoothing System, the most effective, color safe, toxin and restriction-free smoothing system to date.
Olez Advanced® contains Synergistic Blending Technology which compounds exotic ingredients like coconut, Inca and Quinoa oils extracted from the Amazon Rain Forest, with amino acids and nutrients. This allows for the deep absorption of the treatment into the hair follicle during application. Once absorbed, Olez Advanced® is shampooed BEFORE blow-drying and sealing with a flatiron, which dramatically reduces the styling time and eliminates fumes, smoke, color oxidation and waxy buildup.
Olez Advanced® is the only keratin smoothing system on the market that guarantees no color change, no restrictions, and lasting results for up to 30 shampoos. Its spray bottle allows for application in about an hour.
Response to Olez Advanced® has been overwhelming with over 40,000 units sold in the past few months.
Attendees of this weekend's Cosmoprof North America will be able to see the results for themselves at booth D23210 where models will be displaying their before and after results with Olez Advanced®. They are also able to request a FREE 2 oz. sample (One full application).
Non attendees interested in receiving a free 2 oz. Advanced Keratin Smoothing System may request a sample by registering as a professional at http://www.olez.com and sending an email to info@olez.com.
July 8, 2013: Boca Cosmetics Group's Olez® Set to Introduce Three New Lines at Cosmoprof North America Taking Place July 14-16 in Las Vegas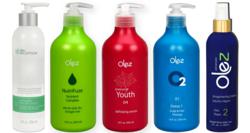 Known pioneers in the hair care industry for the use of Apple Stem Cell Technology in its INCEPTION line, Olez® professional hair care, is now set to introduce O2, Essence of Youth, and NutriFuze™ at Cosmoprof North America, taking place July 14-16 at the Mandalay Bay Convention Center in Las Vegas. The new lines exemplify the fusion between nature and technology providing results that elevate salon services to the next level. Read article here.
July 1, 2013: INCEPTION Apple Stem Cell Masque features in this month's Modern Salon Product Spotlight
Spotlight Feature: "Hydrates hair with oils from the Amazon such as Muru-Muru, Supuacu, and Carite Butter and Stem Cells from he rare Uttweiler Spatlauber apple known for rejuvenating properties. Hydrates and delivers oils, vitamins, and antioxidants." Explote product here. Read Modern Salon article here.
June 3, 2013: WWZ Actress Abigail Hargrove gets her hair styles with Olez® products before the OSCARS
Abigail Hargrove starring with Brad Pit in Summer Blockbuster WWZ gets her hair styled with Olez® professional hair care products. She sat down with Olez® master stylist during OSCAR week as part of a pre-OSCAR gifting suite.
April 15, 2013: NutriFuze featured in this Month's Modern Salon
Pick up a copy of this month's Modern Salon. Our NutriFuze deep hydration cocktail is features under the Color Savors Product Spotlight. NutriFuze is a 15 minute deep hydration treatment that deep conditions and hydrates with proteins from wheat and natural oils.
March 6, 2913: Interview with Christy Olsen During Oscar Gifting Suite
March 3, 2013: INCEPTON featured in Modern Salon
Check out Apple Power inside this month's Modern Salon.


February 28, 2013: Olez

®

featured in the Huffington Post
CELEBRITY SPOTTING:
Shawn Christensen who recently won an OSCAR for his film, Curfew, met up with Olez
®
during the pre-OSCAR gifting event and he was thrilled to take home a gift bag with our INCEPTION Apple Stem Cell infused line which included: our Paraben-free Shampoo and Conditioner, Argan and Pracaxi Oil Spay and Apple Stem Cell Masque.
Read Huffington Post Article Here.
January, 1, 2013: INCEPTION featured in this month's Modern Salon article "All About The Apple".
January 17, 2013: INCEPTION hits Chicago for a Modern Salon Demo:
Click here to see Modern Salon editor's INCEPTION results (includes tutorial).